What's the difference between a Promo Code and Deals?
Did you know that customers are 50% more likely to try out a new service when a discount is present? Sometimes they need that little nudge to make their first purchase, and both joe promo codes and deals are excellent tools to encourage that impulse spending.
Promo codes and deals sound pretty similar, so let's break it down a little further.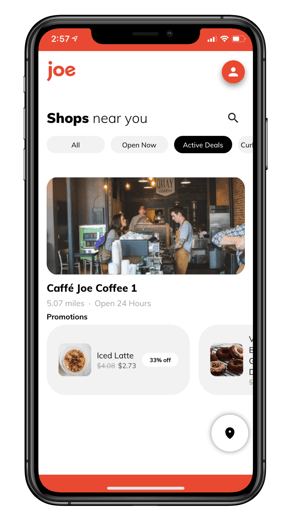 A promo code offers a discount on an item, menu category, or your entire menu. A customer must know the key word to redeem at your shop and enter the code at checkout. Promo codes are excellent for promoting mobile ordering to your customers social media!
A deal is an offer on one specific menu item that we automatically market to nearby customers in the app. Customers simply tap to redeem, no code necessary! Potential customers can toggle to different filters on the "Shops near you" search of the app, including Active Deals for ordering options. This is great for new users looking for a new place to try!
Whether creating a promo code to share out with customers, or creating a deal to market in app, utilizing these tools is proven effective in capturing and converting potential users to loyal joe customers
Interested? Create your first Active Deal or Promo Code!